Finalist: Mt. Eyre Prize, DRL, Sydney, 2011.
This particular painting is about appearance and reality, the way we perceive the abilities or character of others based on outward appearances. The two birds depict René Descartes and Sigmund Freud, one conversing about the Ego and the other over Cogito ergo Sum, both there to represent the consciousness of Self and the awakening of the Individual. The bird flying down to try and join them is made from pages of the Victorian Education Departments "John and Betty", a façade guaranteed to fail to impress with its bright, childlike colours and yet we are told that he could hold his ground, given a chance. The other birds, however, intent on themselves and their own conversation, are never going to listen to what he has to say.
Please email me first for postal/courier costs if you would like this painting delivered.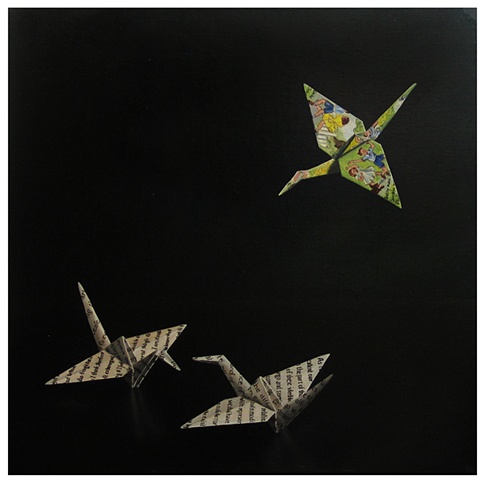 He was intelligent enough, but they were never going to take him seriously
oil on linen
40 x 40cm
2010